In the News
Ali Featured on Univision 19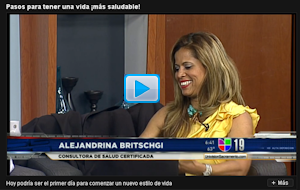 August 2, 2012. In this interview, both Ali and one of her clients discuss how to live a healthy and successful lifestyle. (In Spanish only.)
Mom's Illness Sparks Desire to Fight the Fat -- Already-busy Lodi woman becomes coach
The Record, Stockton, November 6, 2011
With her own Web design business and a job working with Spanish-speaking students in a Lodi school, Lodi resident Alejandrina Britschgi didn't need a new career. Click for entire article.
Nearly 300 Attend Hispanic Childhood Obesity Event
A unique, first of its kind, Spanish-language event was coordinated by Alejandrina Britschgi for Saturday, May 7, 2011. Local medical and nutrition professionals presented helpful information while middle school students demonstrated healthy cooking and fed lunch to all attendees.
Health Coach Ali Receives Award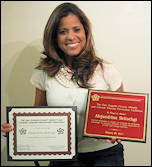 San Joaquin County Department of Public Health recognizes Ali for her personal commitment and efforts in helping people individually improve health. Click here to read story.